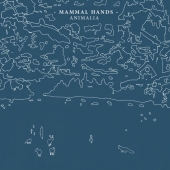 Mammal Hands
Animalia
Label: Gondwana
Genre: Jazz / Avant Garde
Mammal Hands are a trio of like-minded musicians: Nick Smart keyboards, Jesse Barrett drums and tabla, and Jordan Smart saxophones. Drawing on influences from Steve Reich to Bonobo and Pharoah Sanders to Cinematic Orchestra, alongside elements of North Indian and African music, they produce their own beautiful, inimitable music - at times wistful and melancholic and others raucous and catchy. They evoke a range of moods, from delicate and subtle to explosive and frantic, blending thoughtful compositions with spontaneity and interplay. On the road they have been wooing audiences from the Norwich Arts Centre to Mostly Jazz Birmingham, King's Place London, Band On The Wall Manchester and most recently Love Supreme Glynde. Indeed it was at Mostly Jazz that the band were heard by Gondwana Records recording artists GoGo Penguin's bassist Nick Blacka, who liking the band's unique sound brought them to the attention of label boss Matthew Halsall, who immediately signed them to the label and has now produced their sublime debut album, Animalia, which is released on 15th September.



Mammal Hands met in April 2012, while busking in Norwich. They gelled quickly, drawn to each other's open approach to music making. The brothers Nick and Jordan were already playing together as an electronica duo but with drummer Jesse joining the band they developed a distinctive sound drawing on their love of electronic, contemporary classical, world and jazz music. Drummer Jesse's knowledge and understanding of Indian Classical music brings a unique/distinctive approach to the rhythmic framework of the band's tunes. His disciplined study with tabla maestro Sirishkumar has allowed him to develop the ability to explore intricate and complex rhythmic patterns and the freedom to explore time signatures and rhythmic patterns less commonly heard in the western world. Jordan brings a love of DJ culture as well as the influence of Pharoah Sanders to his playing whilst pianist Nick brings a knowledge of classical Jazz harmonies but also a deep interest in the minimalist composers (Terry Riley, Steve Reich) which has influenced his compositional approach, striving to create hypnotic, rhythmic patterns that can provide a foundation for Jordan and Jesse to build on. It is this unique combination of influences and their unusual baseless line-up that makes Mammal Hands' sound so distinctive.



Brilliantly produced by Matthew Halsall and recorded at his home away from home, 80 Hertz Studio, in Manchester, and engineered by George Atkins, Animalia opens with the lyrical Mansions Of Million Years, a slow building tune that takes it's name from Egyptian mythology and draws the listener into the band's distinctive sound world. Snow Bough is a short, melancholic, but moving, ambient composition which gives way to the gorgeous, hooky Kandaiki which makes stunning use of looped melodies in different time signatures, creating a wonderful interplay between the parts. Some of the melodies are inspired by Irish folk music as is the down tempo, but anthemic, Spinning the Wheel, which also features drum beats inspired by chopped up electronic drum patterns and hip hop instrumentals. The jaunty Bustle is a frantic, upbeat tune with slower breaks for melodic fragments and hints at the influence of bassist Avishai Cohen's hugely influential trio, whereas the delightful Inuit Party moves from a downtempo section through groove to end on a hint of free-jazz and Street Sweeper is inspired by Leonard Bernstein's orchestral music. Finally the album closes with Tiny Crumb, which explores melodic ideas inspired by Alice Coltrane and Joe Henderson and builds in intensity from a quiet start to a powerful collective improvisation and heavily features Jesse's Tabla. It is this mixture of quietness and intensity that gives Mammal Hands their unique flavor and that marks them out as the breakthrough band of 2014.