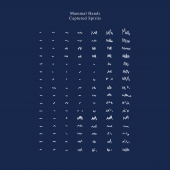 Mammal Hands
Captured Spirits
Label: Gondwana
Genre: Jazz / Avant Garde
Availability
CD Digi / Cardboard €16.99

In Stock
"The semi-classical drums/sax/piano trio Mammal Hands mutate into a high-volume rave act" The Guardian

Mammal Hands are pleased to announce the release of their highly anticipated fourth album 'Captured Spirits', released 11th September via Manchester tastemaker record label, Gondwana Records.

Consisting of saxophonist Jordan Smart, pianist Nick Smart and drummer and tabla player Jesse Barrett, the trio have forged a growing reputation for their hypnotic fusion of jazz and electronica and have recieved glowing recommendations from the likes of The Guardian and Gilles Peterson. Drawing on their love of electronic, contemporary classical, world, folk and jazz music, Mammal Hands take in influences including Pharoah Sanders, Gétachèw Mekurya, Terry Riley, Steve Reich and Sirishkumar Manji.