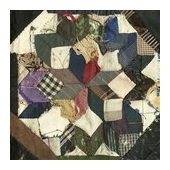 Wovenhand
Refractory Obdurate
Label: Glitterhouse
Genre: Rock / Pop
Availability
CD Digi / Cardboard €15.99

Dispatched within 5-10 working days
About twelve years ago David Eugene Edwards' new band Wovenhand (Woven Hand in the beginning) showed it's first sign of life with their self-titled debut album. His main band 16 Horsepower was still active at that time, but their three members – David Eugene, as well as Pascal Humbert (bass) and Jean-Yves Tolà (drums) were slowly drifting apart. Yet in the same year they still managed to release "Folklore" – a blistering album and their studio swansong.

Long since has the former solo-project stepped out of 16 Horsepower's long shadow. Wovenhand so far released seven albums that made the old fans happy, won new ones and progressed tremendously as a band. Wovenhand is a band led by dedicated life-musician and lyricist, David Eugene Edwards. Over the last two decades, his prolific work in both Wovenhand and the legendary 16 Horsepower has influenced and inspired a generation of musicians throughout the expansive alternative music world.

Wovenhand cannot be described in traditional terms. Their sound is an organic, weavework of neo-folk, post rock, punk, alt. country, and alternative sounds. All coming together as a vehicle for David's soulful expression and constant spiritual self exploration. Sometimes sad and sorrowed and at other times uplifting, Wovenhand are always unforgettable in spirit and sound.