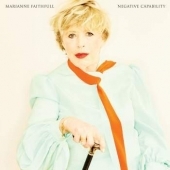 Faithfull Marianne
Negative Capability
Label: Bmg
Genre: Rock / Pop
Availability
CD Digi / Cardboard €16.49

Dispatched within 5-10 working days
Other Formats
Negative Capability' is Marianne Faithfull's 21st album and the most emotionally powerful of her 54-year recording career. Facing down arthritis and bolstered by collaborators including Warren Ellis, Nick Cave, Rob Ellis, Ed Harcourt and Mark Lanegan, 'Negative Capability' is charged with brutal honesty and autobiographical reflection as she addresses losing old friends, her loneliness living in her adopted city of Paris, and love.

Driven by her supernatural reinterpretative skills, florid lyricism, battle against the pain she lives with, and realised with her stellar group of musicians, 'Negative Capability' is Marianne's unflinchingly honest and relentlessly beautiful late-life masterpiece. The stark emotional heft, exquisitely framed by ornately sensitive musical backdrops can only be likened to the late-life works by Johnny Cash or Leonard Cohen.


Recorded at La Frette studio on the outskirts of Paris, 'Negative Capability' is inexorably overshadowed by grief at losing close friends from the '60s such as Anita Pallenberg, Martin Stone and Cream album designer Martin Sharp. It's produced by both Rob Ellis – the PJ Harvey producer who's been Marianne's collaborator for five years -and Warren Ellis from Nick Cave and the Bad Seeds. Warren's violin blesses songs such as 'Misunderstanding' and 'Born To Live' – her intensely moving eulogy to departed lifelong friend Anita - with the stark but lustrous autumnal beauty that makes the album

The first single 'The Gypsy Fairie Queen' – inspired by Shakespeare's 'Midsummer Night's Dream' – was co-written with Nick Cave and features his vocals and piano playing.