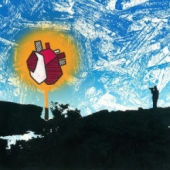 Polar Bear
In Each And Every One
Label: Leaf
Genre: Jazz / Avant Garde
Availability
CD Digi / Cardboard €16.99

Dispatched within 5-10 working days
In Each And Every One is Polar Bear's fifth album – their first new release since 2010's best-selling Peepers.
Produced and mixed in its entirety by the bandleader Sebastian Rochford, In Each And Every One is a marked departure from previous Polar Bear records, opening up their world to a new audience.
An expansive arc across deep emotional terrain, the album evokes a range of a tmospheres: grimy metropolitan house parties, post-industrial scrub, snowy wastelands and dark mountain gatherings.
Over the last ten years, Polar Bear have marked themselves out as one of the most exciting and progressive bands of their generation.
Their albums have been nominated for the Mercury Music prize, and selected for Jazzwise magazine's 100 Jazz Albums That Shook The World and The Guardian's 1000 Albums To Hear Before You Die.
These new recordings consolidate a period of prolific and rewarding activity for Rochford which has informed the band's new direction.
An active member of recent MOBO award winners Sons of Kemet, Rochford has also been a key player in Acoustic Ladyland, Fulborn Teversham, Basquiat Strings and many others.
In 2012 he embarked upon an ambitious monthly singles club, Days And Nights At The Takeaway, featuring collaborations with a breathtakingly diverse range of like-minded artists including Brian Eno, Spoek Mathambo, Jason Moran, Soumik Datta, Leo Abrahams, LV and Jehst amongst others (a CD compilation will be released later this year).
Since the release of Peepers Rochford has worked with a mind-boggling array of musicians, including Rokia Traoré, Yoko Ono, John Paul Jones, Matana Roberts, Andy Sheppard, Paul McCartney, Beck, Patti Smith, rapper Mikill Pane, Carl Barat, Paolo Nutini, Kit Downes, Brett Anderson and Damon Albarn's Africa Express project.
Polar Bear's line up also includes Pete Wareham from the acclaimed Melt Yourself Down (sax), Tom Herbert of The Invisible (bass), Mark Lockheart (Loose Tubes - sax) and Leafcutter John (electronics)