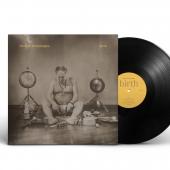 Yermenoglou Christos
Birth
Label: S7 / Cue Productions
Genre: Jazz / Avant Garde
Soul vibrations before and after embodiment.
The new personal album of Christos Yermenoglou titled "Birth".
His first solo work of solo drums and percussion.
Live recording at Cue Productions Studio.
Recorded, mixed and mastered by Yianis Mavridis.
Photos by George Elianos.
Sleeve design by Fotini Filoxenidou.
Produced by S7 & Cue Productions Studio.