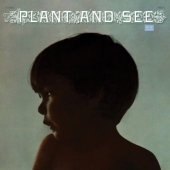 Plant And See
Plant And See
Label: Paradise Of Bachelors
Genre: 60s / 70s Rock / Pop / Progressive / Kraut
Paradise of Bachelors is honored to celebrate the life and music of influential songwriter, singer, and guitarist Willie French Lowery (1944-2012) with the first-ever reissue of the sole eponymous album by his interracial swamp-psych band Plant and See. Originally released in 1969 on L.A. label White Whale—home of Jim Ford, the Turtles, and the Rockets—Plant and See is the strange fruit of disparate people, places, and players in dialogue. Its humid, storm-cloud guitars, ductile vocal harmonies, and intuitive, loose-limbed drumming are redolent of a specifically Southern syncretic musical identity and sense of place, testifying to the outstanding, colorblind musicianship of Lowery, African American drummer Forris Fulford, Latino bassist Ron Seiger, and Scotch-Irish backup vocalist Carol Fitzgerald.
American Indian frontman Willie Lowery grew up in swamp-laced, tri-racial Robeson County, North Carolina, the state's geographically largest, economically poorest, and most ethnically diverse county. Shaped by his own Lumbee Indian heritage as well as the influence of local African American and European American musical traditions, Lowery's style developed into a powerful, singularly soulful sound that appealed to contemporary psych-rock audiences while directly addressing the concerns of his own Indian community. Plant and See represents his first major recorded work, following stints playing for the "hootchie-cootchie women" of a traveling carnival and the lite-psych group Corporate Image, as well as serving as Clyde McPhatter's bandleader.
Plant and See was a short-lived incarnation; White Whale, already on the brink of dissolution, lacked the resources to effectively promote the album, which contravened the standard race, place, and genre-based markets of the day. Shortly after its release, the band regrouped as Lumbee, named in honor of Lowery's tribe, the most populous East of the Mississippi. Lumbee's 1970 album Overdose is, like Plant and See, a rare and highly collectable psychedelic classic; it attracted the attention of the Allman Brothers, whom Lumbee joined on tour in the early `70s. However, the mercurial Lowery quickly changed course, exploring ways to use the country, blues, and gospel idioms of his youth to articulate the history, politics, and cultural identity of the Lumbee people. Stay tuned for upcoming Paradise of Bachelors retrospective releases that document the equally fascinating post-Plant and See phases of Lowery's underrecognized but remarkable career.
• First-ever reissue of this 1969 psych masterpiece by interracial North Carolina band led by legendary American Indian songwriter Willie French Lowery (1944-1912)
• Remastered from original White Whale master tapes
• Pressed on virgin vinyl in a limited edition of 1000
• Produced in collaboration with Willie Lowery and his family
• Fully licensed from all legal copyright owners
• Deluxe tip-on gatefold jacket features restored original artwork
• Includes detailed new 1500 word essay by Lumbee historian and folklorist Jefferson Currie II, positioning the album within the contexts of Lowery's career & Lumbee culture
• Stay tuned for more reissued, rare, and previously unreleased material documenting the remarkable solo recordings of Willie French Lowery & his later band Lumbee