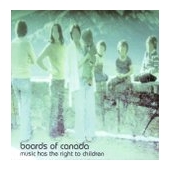 Boards Of Canada
Music Has The Right To Children
Label: Warp
Genre: Electronica / Ambient / Experimental
Availability
LP x2 €29.99

Dispatched within 5-10 working days
'Music Has The Right To Children': "Boards Of Canada's breakthrough is a piece of vital electronica history" - BBC Music; "An album so good and makes its case so flawlessly" - Pitchfork (10.0); "[T]hey took electronica into space. Cleverly referencing the esoteric side of '70s Test Card music in all its trippy glory." - Mojo

The debut studio album, originally released in 1998, now reissued on gatefold double vinyl - 140g pressing cut from original metalwork.


The album's original release was met with critical acclaim, with support from John Peel, which subsequently led to the band featuring recording a Peel Session on BBC Radio.

Package includes Skam braille sticker and transparent blue Boards Of Canada sticker.