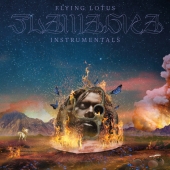 Flying Lotus
Flamagra Instrumentals
Label: Warp
Genre: Electronica / Ambient / Experimental
Availability
LP x2 €36.99

Dispatched within 5-10 working days
Celebrating a year since the release of Flamagra, Flying Lotus presents Flamagra (Instrumentals). Hearing the album without the feature vocalists really shines a spotlight on the psychedelic deep soul arrangements and master musicians that helped shape the album.

It brings Stephen Ellison, Stephen Bruner, Miguel Atwood Ferguson, Brandon Coleman, Herbie Hancock, Deantoni Parks, Dennis Hamm, Taylor Graves and others to the foreground in an intimate and transcendent listening experience for fans.

Comes with printed inners in wide spine outer sleeve, packed in poly sleeve with custom turntable powered psychedelic zoetrope slipmat and labels designed by Drew Tetz.