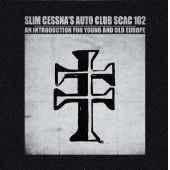 Slim Cessna's Auto Club
Scac 102: An Introduction For Young And Old Europe
Label: Glitterhouse
Genre: Rock / Pop
Availability
CD + DVD €19.99

Dispatched within 5-10 working days
Engaging, riveting, sad and humorous; demanding the audience to participate both live and while listening to their albums; Slim Cessna's Auto Club has been branded with every musical description possible. This seems fitting, as SCAC describes their music as American (Is that not what America is and has been, a mixture of every one and thing resulting in something new?); and after two decades of working and living as SCAC, they have created their own genre.

The instruments are drums, upright bass, pedal steel, banjos, piano, guitar, vocals and stories. They have recorded critically acclaimed albums (Village Voice, Denver Post, San Francisco Chronicle) on Jello Biafra's Alternative Tentacles label. Spin Magazine and No Depression have described them as the best live band in America. The songs are each thoughtfully crafted with unique arrangements, executed by superb musicianship, then fully realized through original, insightful and intelligent lyrics. With two of the most charismatic frontmen around (Westword) and four accomplished musicians, SCAC is the past, present and future of American music.

After releasing 8 albums and playing with artists such as Johnny Cash, 16 Horsepower, Throwing Muses, Violent Femmes and Joe Diffie, Slim Cessna's Auto Club from Denver, Colorado will release its new best of album "SCAC 102: An Introduction for Young and Old Europe" at Glitterhouse Records. 5 new recordings ("This is How We Do Things in the Country", "Mark of Vaccination", "32 Mouths Gone Dry", "Cranston" und "He, Roger Williams") and a remastered sound made by the Godfather of Denver Sound, Bob Ferbrache and a stunning live DVD make the package complete.