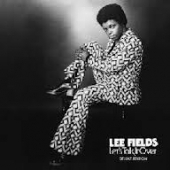 Fields Lee
Let's Talk It Over - Deluxe Edition
Label: Truth And Soul
Genre: Freestyle / Nu Jazz / Funk / Afro
Availability
CD Digi / Cardboard €13.99

In Stock
Truth & Soul is proud to present the deluxe re-issue of Lee Fields' "holy grail" album, "Let's Talk it Over". Lee's very first full-length album, originally released in 1979, It featured his most successful song of the era, "She's a Lovemaker", which was at one time licensed and promoted by London Records.

Mint copies of "Let's Talk it Over", which was self released by Mr. Fields and mostly sold at shows and out the back of his car, can fetch four digit numbers on eBay. Even the bootleg version from the early nineties sells for up to four hundred dollars.

The CD and double LP also features songs from his singles catalogue including "Funky Screw", "We Fought For Survival", "Bewildered", "Meet Me Tonight", "The Bull Is Coming", "Everybody's Gonna Give Their Thing Away", and many more. The deluxe re-issue is also repackaged with a new cover and never-before-seen photos of Lee Fields.