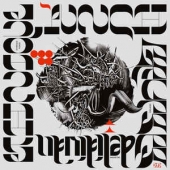 Grup Ses And Ethnique Punch
Deli Divan
Label: Souk Records
Genre: Freestyle / Nu Jazz / Funk / Afro
Availability
LP €21.99

Dispatched within 5-10 working days
Last year we welcomed Grup Ses to our sister label Sucata Tapes with "Program #01", a mystically mixed soundtrack of far-out new age and film sountracks from Turkey circa 1986. A new set of Turkish delights were prepared for this year's release. "Deli Divan" it's a two-part record with incredibly crafted beats that tell a different story depending on the version you chose to listen.

A side captivates by its voracity. Hi-tech and fierce beats drop with the sharp voice and flow of Ethnique Punch, delivering 14 – yes, f-o-u-r-t-e-e-n – short and punchy tracks. The diggin' liveliness of Grup Ses is well present in the samples used, manufacturing beats that serve well the fast-paced and nocturnal voice of Ethnique Punch. The first part of "Deli Divan" is pretty much a straight story. A good one.

But then comes the surprise. The other side. The same fourteen tracks without voice, just the beats.

And here "Deli Divan" tells a completely different story. It loses the emergency, darkness and robustness of the A side, specially because the beats float on a limbo without a voice. But that limbo reveals the straightforwardness of the beats created by Grup Ses for this record. There's a hidden narrative here, without the voice the short tracks connect like an outer world radio broadcast.

But there's no narrator. Just time-travelling beats that interlink past, present and future, synthetizing complex ideas in short bursts of 1 or 2 minutes. A Deli-Delight this is.