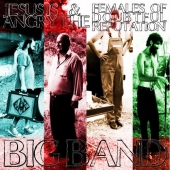 Jesus Is Angry & The Females Of Reputation
Big Band
Label: Full Wave Rectifier Laboratories
Genre: Post Rock / Avant Rock
Availability
Other Formats
Jesus is Angry, the experimental electronic nomad guru, has joined powers with hugely underrated proto-industrial music legends from the 1950's, the Females of Doubtful Reputation, and have recorded an album together as a sort of Big Band. The album was recorded at the Full Wave Rectifier Laboratories Rural Culture Studios in Great Hobonia, with Jesus Himself on the controls, demonstrating once again his signature experimental recording techniques and homemade analog sound processing devices, for a larger-than-god sound.
The Big Band performs on twin drumkits, upright bass, fuzzed-out guitars, tons of synthesizers, electric organ, industrial percussion, power tools and internal combustion engines. The music moves in several ever-changing directions, ranging from Avant-Garde and Industrial music to Sludge/Doom Metal and Psychedelic Blues.
The new album, officially released on September 15, 2012, is available globally on various formats:
12" Vinyl Record: A limited number of these records exist, and they are all individually cut by hand on a record cutting lathe by our expert associate, directly from our analog master tapes. 100% pure vinyl, 100% analog signal path, 100% awesomeness and sound quality. Comes with inlay and liner notes. This is a proper audiophile quality release.
Color Cassette Tapes: The second analog format for the big band album is a retro favorite, the mighty cassette tape. These ones also have colored shells, in several extraordinary colors to impress your friends and spice up your sex life. The duplication was done in-house at the Full Wave Rectifier Laboratories Rural Culture Studios, on a machine that rolls the tape in real time (normal playback speed), directly from our master tapes, with a 100% analog signal path. Unbelievable quality. This is not a loop-bin duplication system. It takes a long time to produce these tapes, and it requires the constant attention of our master tape duplicator, but the result is just unbelievable. It really puts the cassette tape format back on the audiophile map. Comes with inlay.
CD: For the ones who prefer their music on a more compact, digital format, we have also released the Big Band album on CD. Comes with inlay.