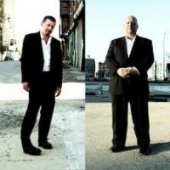 Paley & Francis
Paley & Francis
Label: Cooking Vinyl
Genre: Rock / Pop
Availability
CD Digi / Cardboard €18.49

In Stock
In their own words:
"This album was recorded in two relatively short days this past September 2010 in Nashville, Tennessee. All first takes.

We wrote the music for the songs in Paley's apartment in Brooklyn over three afternoons when Francis was in New York for a three day run at Joe's Pub. After which we each took half of the songs to finish off with lyrics, and Francis went off to meet what he sometimes likes to call "the old band" for another tour.

A few days later, we were recording at Jon Tiven's studio in Nashville. We each sang lead on the songs we wrote lyrics for and sang backup on the others. We worked fast. Francis had Pixies shows each evening, so we had a curfew. Paley recalls finishing the lyrics to one tune literally a minute before cutting the vocal. The two of us on guitars with legendary Muscle Shoals players David Hood on bass and Spooner Oldham on piano. Damn, those guys are good.

Hope you like it. Hope you dig the vibe.