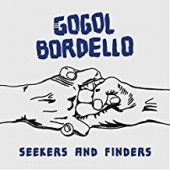 Gogol Bordello
Seekers And Finders
Label: Cooking Vinyl
Genre: Rock / Pop
Availability
CD Digi / Cardboard €13.99

Dispatched within 5-10 working days
Other Formats
Gogol Bordello formed in New York in 1999, injecting Eastern European musical influences into underground rock to forge their distinctive "gypsy punk" sound. In keeping with the band's roots, the title track "Seekers and Finders" pairs Hütz with another genre-bending NYC artist who started her career at the turn of the 21st century: Russian-born singer-songwriter – and longtime friend – Regina Spektor. "It's the duet of the wandering Jew and the roaming gypsy by the campfire, which we represent most perfectly."
But before recording in New York and Washington D.C., the band had already invested countless hours working up the material. During their extensive tours, Gogol Bordello uses nightly soundchecks as an opportunity to rehearse and develop new material. "Usually, I craft the songs and then the band arrives and makes them better, composed adventurous pieces. This time, however, I welcomed the band's creativity from the getgo. Many late nights followed as we captured the magic amongst us. It felt like it did when I was making my first recording ever where capturing that luminescence is the most important thing in entire world."
Seekers and Finders also marks another return, as Hütz resumes production duties after entrusting them to outside producers including Rick Rubin (Transcontinental Hustle, 2010) and Andrew Scheps (Pura Vida Conspiracy, 2013). "Our path has blessed us with those grandmasters, but I've always had a strong D.I.Y. ethic and knew eventually I wanted to get behind the wheel myself! It was like being a matador facing the beast of Gogol's collective creativity."
And what was Hütz's biggest takeaway from experiencing all those different approaches to record-making? A reinforced belief that you should never stray too far from your original idea. "Capture the moment … the moment is king."
There were many stops along the path to Gogol Bordello's Seekers and Finders, and many more to follow. As pleasant as it may feel to set up camp for a spell in Brazil or Ukraine or New York, ultimately the roving storyteller must move on.
"When I was in my twenties, that just seemed like a romantic notion," Hütz concludes. "But here I am, still cruising around with my guitar like The Fool on a tarot card. And there's actually great comfort in that. There's something rewarding and fulfilling about commitment to a destiny … even if it's a pretty funky one."
Thus 'Seekers and Finders' comes from a very wide and magical playground, a playground where people are still explorers who climb trees and walls across the world to seduce the hero of their heart… The playground where you get to see all sides of Gogol Bordellos path: The Good… the Bad… and the Snugly.