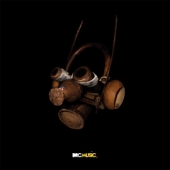 Drc Music
Kinshasa One Two
Label: Warp
Genre: Electronica / Ambient / Experimental
Availability
CD Digi / Cardboard €6.99 Nice Price

In Stock
• An inspiring, exciting collaboration between ten innovative and recognized producers (including Damon Albarn), and a host of Congolese musicians – for Oxfam.

• DRC Music is a collective of producers that recorded an album in 5 days with Congolese musicians in Kinshasa, the capital of the Democratic Republic of the Congo, during July 2011.

• DRC Music is Damon Albarn, Dan The Automator, Jneiro Jarel, Kwes, Remi Kabaka, Richard Russell, Rodaidh McDonald, T-E-E-D (Totally Enormous Extinct Dinosaurs), Marc Antoine and Alwest.

• All profits from this record go back to Oxfam's projects in the Democratic Republic of Congo.

• The album ranges from upbeat celebratory anthems to atmospheric brooding soundscapes, a unique union of Congolese musicianship and the cutting-edge techniques of some of the most renowned producers in the world.

• CD in digipack with 12 page booklet. Includes unique code to access download of the album plus three bonus tracks.