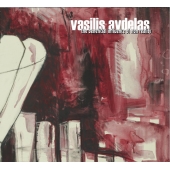 Avdelas Vasilis
The Beneficial Influence Of Non Reality
Label: Private Press
Genre: Electronica / Ambient / Experimental
…steps, welding, breathing, nature sounds, printers, pistons, pianos, guitars, synthesizers…
Vasilis Avdelas is combining all of the above sound sources to create musically a melancholic, dream-like sense of reality.
The title "The Beneficial Influence of Non Reality" is preparing the audience for a journey to imaginary and fantastic places where the tormented perception occasionally travels to "heal" itself.
…βήματα, ηλεκτροκολλήσεις, ανάσες, ήχοι της φύσης, εκτυπωτικές μηχανές, ταινιόδρομοι, έμβολα, πιάνα, κιθάρες συνθεσάιζερ…
Ο Βασίλης Αβδελάς συνδυάζει όλες αυτές τις πηγές ήχων για να αποδώσει μουσικά μια μελαγχολική, ονειρική αίσθηση της πραγματικότητας .
Ο τίτλος ''The beneficial influence of non reality" (Η ευεργετική επίδραση της μη πραγματικότητας) προδιαθέτει τον ακροατή για ένα ταξίδι σε τοπία ονειρικά όσο και φανταστικά όπου η ταραγμένη συνείδηση καταφεύγει ενίοτε για να «γιατρέψει» τον εαυτό της.