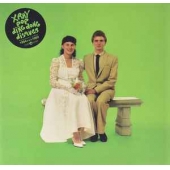 X Ray Pop
Ding Dong Disques
Label: Cache Cache / Finders Keepers
Genre: 80s Wave / Rock / Pop / Punk
Availability
LP €20.99

Dispatched within 5-10 working days
Femme fronted pocket punk and domestic-synth pop from French DIY workaholics X Ray Pop. Compiled from the mastertapes of the original 1980s privately pressed vinyl LPs and minuscule cassette runs.

X Ray Pop are a group of whom are easy to scratch the surface, but almost impossible to get the bottom of. With an iconic moniker, telltale graphic style and demanding 'buy me' Day-Glo colour coding policy the French vinyl output of X Ray Pop as a specialist subject is, at first glance, memorable and achievable. Cocksure fans of Euro wave pop often proclaim X Ray expertise from behind many a record shop counter or blog page but the truth of the matter is that no-one, not even the band members themselves, have the knowledge or mental capacity to truly understand the splatter range of the god speed anti-tactics that have turned this interchangeable, unarrangable and thirty-year sustainable auto-pop combo into one of uber-legendary status. For those that tread the chemins of 80s Gallic record racks, from agit pop to Zeuhl-school (bridging synth pop to Celluloid) these 7″ square flags reading El Gato, L'Eurasienne, Alcool and Fuzzy Christmas are merely alluring landmarks pointing to another seba- ceous underground of magnetic tape that flows swiftly (like Magma) await- ing Pirates and liberators alike. X marks the spot!

Peeping out of a warren of unexplored passages their seminal self-distributed debut singles and appearances on the genre defining alternative funk Alternative Funk Folie Distinguée compilation in 1984 made them an omnipresent fixture for the French tape wave scene that shaped a generation and influenced many more to follow. But beneath the trademark fluorescent sleeves stands the highly stacked foundations of endless cassette only releases that give this pocket punk husband and wife duo one of the most impressive and elusive back catalogues of all their cut 'n' paste French funk contemporaries. Plundering the depths of a self-estimated 400 recorded songs, X Ray Pop founder Didier Pilot has joined up with Finders Keepers sister label Cache Cache to reassess, rescue and reissue some of the bands most underexposed sonic snapshots, many of which were distributed in issues of less than 50 up to 500 for exclusive global releases in France, Spain, Portugal, Japan and America (where bands like Brian Ladd and Julie Frith's Psyclones and The Beastie Boys championed the band as a likeminded inspiration.