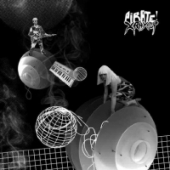 X Ray Pop
Pirate! The Dark Side Of The X!
Label: Cache Cache / Finders Keepers
Genre: 80s Wave / Rock / Pop / Punk
Availability
LP €20.99

Dispatched within 5-10 working days
As one of the most prolific and viciously self-sufficient exponents of the early 80s French DIY/domestic synth pop scene X Ray Pop are a group who are easy to scratch the surface but almost impossible to get the bottom of. Peeping out of a warren of unexplored passages their seminal self-distributed debut singles and appearances on the genre defining alternative funk Alternative Funk Folie Distinguée compilation in 1984 made them an omnipresent fixture for the French tape wave scene that shaped a generation and influenced many more to follow. But beneath the trademark fluorescent sleeves stands the highly stacked foundations of endless cassette only releases that give this pocket punk husband and wife duo one of the most impressive and elusive back catalogues of all their cut 'n' paste French funk contemporaries. Plundering the depths of a self-estimated 400 recorded songs, X Ray Pop founder Didier Pilot has joined up with Finders Keepers sister label Cache Cache to reassess, rescue and reissue some of the bands most underexposed sonic snapshots, many of which were distributed in issues of less than 50 up to 500 for exclusive global releases in France, Spain, Portugal, Japan and America (where bands like Brian Ladd and Julie Frith's Psyclones and The Beastie Boys championed the band as a likeminded inspiration.)
From the earliest, lower levels of the X vault Cache Cache and Pilot resurrect one of the bands finest untravelled moments in the form of the rare tape only one-sider Pirate! - a spontaneous long player comprised of raw, rhythm heavy electronic versions of exclusive tracks alongside heavier and darker industrial versions of tracks that would later creep into the bands unhinged official pop discography.
Wearing their unabashed and generally incompatible influences of Can/Devo/Brigitte Bardot/Cramps/The Residents/Kraftwerk/Captain Beefheart/PIL/Brian Eno/Robert Wyattt/Gainsbourg/MAGMA proudly on their sleeves, this long lost tape captures a one day recording session which was originally released as 100 cassettes in 1985 at a time where various outside influences and competing labels were trying to snare the band into a slower more manageable pop entity. This is the sound of France's two most highly charged battery operated cabaret cosmonauts at there hardest, loosest and uninhibited celebrating the dual-unison that can also be identified in similar two-headed freak funk outfits such as Moderne Mathermatiques, Stereolab, Ellie and Jacno and most notably (and perhaps unconsciously) Silver Apples to whom this release bears a welcome and femininised close comparison.