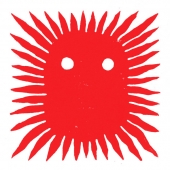 Mldva & Cinar Timur
Mldva & Cinar Timur
Label: Shapes Of Rhythm
Genre: Freestyle / Nu Jazz / Funk / Afro
Availability
LP €23.99

Dispatched within 5-10 working days
Shapes of Rhythm is proud to present the self-titled debut LP of Turkish psychedelic pop from MLDVA & Çınar Timur. This record is a celebration of the classic music and culture typically of the 70s and 80s, but which also leans into western jazz funk and soul jazz moments. If you're into the Turkish music legends of the 70s and 80s such as Barış Manço and more recently Altın Gün or Derya Yıldırım & Grup Şimşek, you've come to the right place.

MLDVA were formed in Krakow, Poland in 2013 as a DJ and production outfit. Under the influence of Greek and Turkish folk and psych-rock music they began to transform into a band, taking up instruments including the Saz which is one of the most recognisable trademarks of the Turkish sound. Two years later in 2015 they invited Turkish instrumentalist Çınar Timur to join them and this completes the line up on their debut. This electric album is packed with excellently-recorded expansive tracks which are full of energy, psychedelic deep grooves, hard-hitting breakbeats and everything else you'd expect with classic Turkish sounds.

The instrumental double-header of Neşat Erkaş' Zülüf Dökülmüş Yüze, moving into the time-honoured traditional Kozan Dağıis the perfect opening track. The introduction is an overture of sorts with two minutes of Çınar Timur's pondering guitar. This tees up the record perfectly before heading into a break-beat driven workout with the band matching Çınar's evocative and energetic riffing. The result is a tight sound and a heavy groove that sets the tone for what's to come.

With the band unveiled, Sarı Çizmeli Mehmet Ağa, written by Barış Manço (a legend in Turkish popular music), hits a relaxed, deeper and more psychedelic groove, dominated by Wojciech Długosz's dreamy Rhodes piano, set against choppy wah-wah guitar licks that characterize that classic electric Turkish pop sound. We're introduced to Ulaş Çıbuk's vocals for the first time, telling the historic tale of a charitable village lord Mehmet Ağa from 19c Anatolia known for his generosity. He shared his fortune with people inneed and as a result, died penniless. This track also features the unique sound of Çınar's Mictrotonal electric guitar.

Bir Adım Öte is MLDVA & Çınar Timur's magnificent mellow moment, marking the halfway point in their debut. The group shows that it's not all about the frenetic in a nod to western Soul-Jazz constructs. They showcase restraint, emotion and that joy in repetition of a wonderful guitar refrain. Not content with holding this down, Wojciech Długosz's Rhodes solo steps into a world that's US-influenced Soul jazzand is a lesson in reduction and feeling. Çınar Timur then takes a solo turn, keeping it western-influenced with an on the spot improvisation. When the three minutes of solos are over, we're brought back out of thedream and towards the East again.

Adımız Miskindir Bizim kicks off like a hip hop/funk crossover tune, until the chord changes muscle in, to remind you where you are in the world. As with other tracks on the debut, the tune is marked by recurring motifs, this time from Çınar's microtonal electric guitar. We've more solo Rhodes action, thist ime busier and more urgent. The lyrics–originally written by Yunus Emre – criticizevalues such as holding grudges that destroy ideas of love, friendship and peace among people which causes hostility. Adımız Miskindir Bizim concludes with an uplifting vocal vamp which switches it up unlike any of thetracks on the LP.

In Fesupanallah– made most popular by Erkin Koray – Ulaş Çıbuk sings about the simple subject ofbeing patient with never ending problems in life, and trying to find a solution for them. This cut takes a rhythmical side-step to the rest of the album. The kick drum maps out a solid four-four, but the vocals and guitar lines move around it to impose Fesupanallah as being the record's most traditionally Turkish-sounding cut.

The album's closing track Ölüm Allah'ın Emri (another Manço classic) was recorded live in the band's more familiar surroundings of Krakow's Cheder Cafe during 2020's Jewish Culture Festival. The lyrics tell the tale of someone who has accepted death but cannot accept the separation that comes with it. We open with a dreamy, psychedelic mood before progressing into a heavy-riffing rock feeling with probing synths. Ulaş delivers his vocals over the top of a stripped back, shuffling groove. As the track progresses towards a frenetic conclusion, drummer Szymon Piotrowski cuts loose, combining with Grzegorz Dąbek's synth lines.

MLDVA & Çınar Timur's debut LP is not the sound of a band starting out. Taking time to hone their craft and let influences across the global spectrum of music mature, this is the result of years of jamming, gigging and collaborating. Now, after prestigious festival appearances and their place on Saz Power – an essential modern Turkish music compilation – they're making a lasting contribution to a rich, time-honored culture.