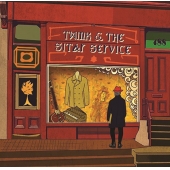 Twink And The Sitar Service
Twink And The Sitar Service - Rsd Release
Label: Sunbeam
Genre: Rock / Pop
Psychedelic legend and pioneer Twink joins efforts with London's up and coming trio The Sitar Service to reimagine the sounds of the 60s in Hindustani fashion and build bridges between both West and East and different generations of psych musicians.
Mohammed Abdullah (Twink)- Percussion
Sameer Khan - Vocals, Harmonium, Bansoori and Bass
Rod Bourganos - Sitar, Bass, Clavinet and Leslie Harmonium
Anthony Paine - Drums
Recorded at Sausage Studios, Abbey Road and Studio 13
Produced by Seb Kellig and The Sitar Service
Engineered by Seb Kellig, Livio Boullenger and Solal Gantelet
Includes psych print insert. Gatefold cover.