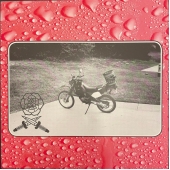 Bass Drum Of Death
Say I Won't
Label: Fat Possum
Genre: Rock / Pop
Availability
LP €25.99

Dispatched within 5-10 working days
Bass Drum of Death's new album Say I Won't is the end result of a journey that took singer and bandleader John Barrett from a small town in Mississippi and sent him across the world and back home again. The music still rips, with blown-out guitars and drums that sound like bombs going off, and the melodies are catchier than ever, hollered in Barrett's trademark yelp. But the music hits differently now, more at peace with itself, propelled by a new swagger. Say I Won't isthe record of a veteran band finding its stride and leaning into it, stripping back the excess and finding the raw core of their sound.

Say I Won't, the band's fifth record, comes at a time of massive change for Barrett, having relocated from New York to his hometown of Oxford, Mississippi during the pandemic. The record is also a homecoming of a different sort, with the band rejoining the ranks of Fat Possum, also in Oxford, the label that released their first record GB City in 2011.

Say I Won't finds a reinvigorated Barrett firing at all cylinders, backed by his best band yet. It's Bass Drum of Death at their loosest and scuzziest and most tuneful, a true rock record in all the right ways. It's a throwback by way of moving forward, sporting a maturity and swagger that comes from a decade of playing music on the road and surviving to tell about it. More than anything, Say I Won't is a blast to listen to, music built for driving with your stereo cranked.
Limited ivory vinyl.