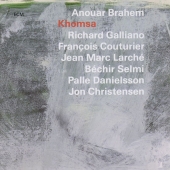 Brahem Anouar
Khomsa - Touchstones Series
Label: Ecm
Genre: Jazz / Avant Garde
Availability
CD Digi / Cardboard €14.99

In Stock
Khomsa is an old Tunisian female name meaning "the five fingers of the hand", symbolic of good luck in the Tunisian bedouin tradition. It is also the name of the heroine in Nouri Bouzid's film Bezness — the music for which was composed by Anouar Brahem.

Brahem is recognized as a masterly interpreter of the Tunisian and pan-Islamic music traditions and as an exceptional improviser, able to build on those traditions. Inside his home country, however, Anouar also has a long history of working with film and theatre, and Khomsa revisits and quite freely reworks material he had written over the preceding decade for these contexts. "These pieces", he notes, "have remained within me as the image of a collection of sensations quick to vibrate." They emphasize Brahem's compositional skills as much as his soloistic abilities.

Cinematic references abound in the track titles. "Nouvelle Vague" (for accordion and piano) and "E La Nave Va" (for bass, piano and accordion) are named after films by Godard and Fellini respectively. "Regard de Mouette" (in a solo violin version here) was the title music for a film by Kalthoum Bornaz. "Ain Ghazel" (meaning "Eye of the Gazelle", and played by the whole ensemble minus Béchir Selmi) is named after the first film in the history of the Tunisian cinema, which was produced in 1924 and rediscovered as well as restored shortly before this album.

The musicians brought together on Khomsa — the album's dramaturgy calls for continually shifting permutations of the personnel — include three players Brahem has often worked with over the years (Selmi, Couturier and Larché) and three whom he encountered here for the first time (Galliano, Danielsson and Christensen).

Brahem continues to reveal new aspects of his oud playing on Khomsa. If "Claquent les voiles", a duet with Danielsson, intensifies the Andalusian strain hinted at on the Barzakh album, "En robe d'olivier" suggests West African colours, the oud taking on some of the bright, percussive quality of the kalimba. In these pieces, as on his subtle, extended solo on "L'infini jour", Brahem — who is often praised for his virtuosity — shows his ability to transcend mere "technique" to get to the essence, the heart, of the music.