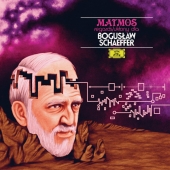 Matmos
Regards / Ukłony Dla Bogusław Schaeffer
Label: Thrill Jockey
Genre: Electronica / Ambient / Experimental
Availability
LP €32.99

Dispatched within 5-10 working days
Other Formats
Matmos are one of the most prominent experimental electronic artists working today, crafting work by creating new conceptual frameworks & immediately testing those frameworks absolute limits. For Regards / Ukłony dla Bogusław Schaeffer they've focused on another artist known, in large part, for doing the same. Bogusław Schaeffer was one of the first Polish artists creating electronic music. In step with American contemporaries like John Cage and Morton Feldman, he worked across the boundaries of classical composition, electronic experimentation, and radical theater in playfully form-breaking ways. Matmos are not the first ones to recognize the power of his catalog, from Solo (a 2008 documentary that garnered numerous international awards), to the annual Shaeffer's Era Festival (most recently celebrated simultaneously in Warsaw and Los Angeles) his work continues to inspire. Regards.. however, was not just inspired by his work, Matmos were given access to the entirity of Schaeffer's recorded works to use as they saw fit, commissioned by the prestigious Instytutu Adama Mickiewicza. They re-assembled & re-combined these recorded works with modern instrumentations in a way that only Matmos could, and what emerges is a composite portrait of the utopian 1960s Polish avant-garde and the contemporary dystopian cultural moment regarding each other across a distance.

To facilitate the transcultural exchange that is the album's essential premise, all song titles and liner-notes are provided in both English and Polish. The album was mastered by Rashad Becker and features illustration and design by acclaimed artist Robert Beatty (Tame Impala, Osees, Mdou Moctar).

Like the anagrams of the letters of Bogusław Schaeffer's name that were re-assembled to create some of the song titles, the album itself is a musical re-assemblage of component parts into possible but unforeseen new shapes. Adding harp from Irish harpist Úna Monaghan, erhu, viola and violin from Turkish multi-instrumentalist Ulas Kurugullu, and electronic processes from Baltimore instrument builder Will Schorre, and Horse Lords wunderkind Max Eilbacher, the resulting arrangements constantly toy with scale as they move from the close-mic-ing of ASMR and the intimacy of chamber music to the immensity of processed drones and oceanic field-recordings that close the album. Offering a "life review" of production styles, Regards / Ukłony dla Bogusław Schaeffer builds temporary shelters out of the panoramic wreckage of modernist composition, sixties tape music, seventies dub, eighties industrial music, nineties postrock and dark ambient, 2000s era glitch fetishism, and contemporary post-everything collage sensibilities.

"What's astonishing is that Matmos's music consistently transcends the concepts. Matmos albums can be sonically and academically challenging but are always sentimental, good-humored, and funky." - PopMatters

Colored vinyl.