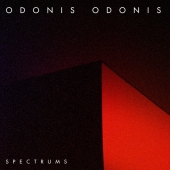 Odonis Odonis
Spectrums
Label: Felte
Genre: Electro / Electro-Rock
Availability
LP €22.99

Dispatched within 5-10 working days
On Spectrums, Odonis Odonis showcase the extreme ends of their musical margins. Embracing a love of '80s goth and darkwave melodicism while maintaining an industrial strength intensity, the dualities of their sound are revealed in a striking new light. With four albums under their belts, the Toronto-based duo of Dean Tzenos and Denholm Whale have always followed creative impulses wherever they might take them. Yet while tracing their earliest experiments with surf-rock and shoegaze into more recent dabblings in abrasive EBM, they have never sounded as sonically boundless as this compilation of tracks.

Beyond their recorded output, Odonis Odonis have earned a reputation for the ferocity of their live performances, combining cathartic aggression with danceable beats set to pulsating strobe lights and the addition of live drummer Phil Wilson. This has led to them sharing stages with a vast range of artists including Daughters, Front 242, Boy Harsher, Killer Mike, Chelsea Wolfe, Deafheaven, and Oneohtrix Point Never. Their 2017 album No Pop was described by Pitchfork as " claustrophobic electronic music that sounds like the end of the world ," while they have earned praise from influential sources such as NPR, FADER, Stereogum, and The Needle Drop.

Odonis Odonis began as a solo recording outlet for Tzenos in 2010 before evolving into a noisy rock band formation. They have now stripped down to a core duo as the project celebrates a decade of activity. The social limitations of the pandemic found the pair of multi-instrumentalist producers forced to work completely from home for the first time, challenging themselves to step outside of the box and create music they may have shied away from in the past. Tzenos describes their newfound process as cherry-picking elements from the angry and occasionally antisocial sound of past releases, but applying an extroverted approach.

"This project is the start of the third chapter of the band's evolution," says Tzenos. "I still feel like we have a lot more to explore musically and writing these songs lit the spark for a lot of new directions. The idea of doing something poppy is a stark contrast to our last record, but as long as the project remains fun and experimental it will keep growing. We're more like the weird goth kids in the back of the club now."

To highlight Spectrums' varying sounds in the months leading up to the full compilation , songs will be split into small groupings and released with colours that match their intended emotional impact. The icy blue shades of "Impossible" merge the band's feelings of fear, hope, and trust. The distorted red thump of "Get Out" and "Salesmen" pushes towards danger and anger but also blooms with passion and life. The purple pop of "More" and "Laced In Leather" mark the duo's greatest musical leap into influences from Depeche Mode and New Order, representing independence, grace, and curiosity - a sense of the unknown. As they robotically march into the blackness of "Shadow Play" to reveal squelching acid synths, Odonis Odonis prove themselves to be strong and self-contained stalwarts of the scene that still have fresh tricks up their sleeves.

"Despite our massive changes there has alway been a cohesive thread between all of the band's material, whether it be programmed drums or epic reverberated swells," says Whale. "I would say the band that has existed since Post Plague now feels like a separate project. We've learned a lot over the years, about what's important both as a band and as someone who wants to make music part of their life. We've finally found where we fit inside all of the noise."
Slow drip red + transparent vinyl.