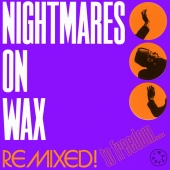 Nightmares On Wax
Remixed! To Freedom ...
Label: Warp
Genre: Freestyle / Nu Jazz / Funk / Afro
Availability
MLP €17.99

Dispatched within 5-10 working days
As Warp's longest serving signing, Nightmares on Wax has been consistently at the forefront of contemporary music, creating a unique blend of electronica, jazz, hip-hop, dub, funk, soul and techno.

Although 9 albums in, he may have only just truly stepped into his own groove. Lockdown forced a change of pace and offered some time for meaningful reflection and introspection. "I've been gigging non-stop for 10 years," he says. "And that experience has been beautiful but it also drained me emotionally."

He began to reassess some things. "As a creative you're always questioning everything," he says. "So having the time and the space has meant that I could do a proper deep dive into this stuff. So it was all about this journey of going back to myself, and realising being at home with my wife and my daughter that I've not really been here properly. It's like I've just woken back up to what I actually have - and it's already here."

Evelyn already had the wheels in motion for making a collaborative album with a variety of guests but now he took this personal element and asked them to run with it. "The world had stopped and I'd slowed down but time speeded up," he reflects. "So there was a lot of static going on in the world at that time. So my conversation with people was more like, 'what's going on inside? What's the inner voice saying?' As a result, he formed creative bonds with new and upcoming talent that slotted in nicely with both the history and evolution of N.O.W. The likes of Shabaka Hutchings, Haile Supreme, Mara TK, Sabrina Mahfouz. Greentea Peng, OSHUN and Pip Millett all feature.