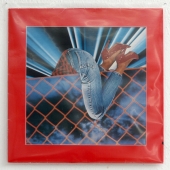 Various Artists
12 Compost Disco Years
Label: Compost
Genre: Freestyle / Nu Jazz / Funk / Afro
Availability
LP x2 €22.99

Dispatched within 5-10 working days
For the 12 years Compost Disco we providing a massive package of 15 exclusive, previously unreleased tracks. A brilliant cocktail of disco-ish tunes by Dimitri From Paris and DJ Rocca, AN-2, Mark E, Ed Lee, Manuel Tur, Chocolate Garage Production, Velmondo, Ron Deacon and some other suspect alter egos. Destined for the sunset crew, for the hip shaking, for the gym, for those, who are open minded with disco anyways, for more parties, last but not least for salvation.

The variety range across the floor from boogie, italo, new wave, classic soulful, balearic, neo-disco, housey, downbeat, fusion, garage, to tech-disco. Tasty, hypnotizing and emotional.

A big shout-out, respect and thanks goes to Benjamin Röder, who does all the fantastic artwork for the 25 Compost Disco releases. Well, more to come soon.

The 2xLP contains a sticker pack of all Compost Disco 12" front cover artworks.