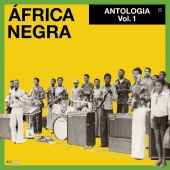 Africa Negra
Antologia Vol. 1
Label: Bongo Joe
Genre: World Music
Availability
LP x2 €28.99

Dispatched within 5-10 working days
Les Disques Bongo Joe, continuing their work on Sao Tomé and Principe with curator DJ Tom B., are pleased to announce the release of an anthology of the group África Negra. This first volume includes 12 of their key tracks, remastered for the occasion and selected only from those officially released on different media. The album is accompanied by a booklet with the original covers and interviews with the band members still with us. A second volume containing only unreleased material, digitized from the studio tapes by their tour manager, and filled with period photos, is expected soon.

Formed in the early 1970s by Horacio, a butcher by trade, and his guitarist friend Emidio Pontes, África Negra is the best known of the great São Tomé and Principe bands. The catchy melodies in the local Forro language, provided by lead singer João Seria, and subtly harmonized by the enchanting backing vocals of the rest of the band, quickly ensured their influence outside the archipelago. Their incomparable blend of Puxa and Rumba rhythms and subtle melodies made them the most regular touring band from Sao Tome.

Their first album (Aninha) was released in 1981, followed by three more in 1983. They contain an incredible collection of timeless hits and have achieved high ratings on the second-hand market. Then came the excellent San Lena in 1986, which was unfortunately only released on cassette, but for which we were able to digitize the original tape. In 1990 their last album in vinyl format (Paga me uma cerveja) was released, the rarest. Three CDs and five cassettes followed in the 1990s. Like most São Tomean bands, they recorded their compositions at Radio Nacional STP, the only studio on the island at the time, whose cramped premises forced the big bands to do sessions outside in the courtyard, at night, facing the ocean and in front of their fans.

Reformed around João Seria, the band has recorded three albums since 2012, and has been touring again for a few years, offering, always with the same energy, their frenzied rhythms, their graceful harmonies, their poetry full of social metaphors, and their typical dance steps.