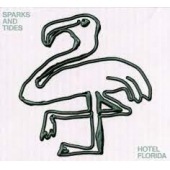 Sparks & Tides
Hotel Florida
Label: Yellow Bird
Genre: Jazz / Avant Garde
Availability
LP €27.49

Dispatched within 5-10 working days
Yin and yang. Black and white. Earth and sky. In nature and culture dualities are often inextricably linked, and the music of Sparks and Tides embodies the way that polar impulses and approaches can manifest as a deeply integrated whole. The first collaboration co-led by brothers Andreas Tschopp (trombone) and Matthias Tschopp (baritone saxophone), the Swiss sextet makes a subtly enthralling debut with Hotel Florida, an album marked by lapidary textures, extended melodies, and finely calibrated production.

Dense and spacious, electric and unplugged, carefully composed and improvised in the studio, the music of Sparks and Tides is as dichotomous as the band's name. More than a moniker, it's an encompassing conceptual framework that flows from the personalities of the brothers.

Sparks and Tides also refers to the flow of their music, which unfurls in unhurried waves until suddenly surging with quicksilver flurries. Cinematic and full of intriguing passages, it's music for unsettled dreams. The music evolves with narrative force that keys on an accretion of sonic details.

The group brings together some of the most creative figures on the small, intertwined and fervently inventive Swiss jazz scene.