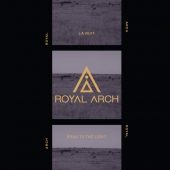 Royal Arch
La Nuit / Road To The Light
Label: Make Me Happy
Genre: Rock / Pop
Royal Arch is a five-piece band from Athens, Greece, formed in 2020 and consists of Elias Masri (vocals), Nick Kokkinos (guitar), Orestis Loukas (bass), Elias Kokkinos (drums) and Vassilis Dousis (guitar).
The members of Royal Arch met while attending high school in Piraeus, where they used to spend countless hours in each other's homes. With the joining of vocalist Elias Masri in 2020, the group had been formed where they started actively playing.
Young Greek guitar band is eager to explore music and create a new sound to bring new dimensions and to approach a new aesthetic to the indie-rock/shoegaze scene.

"La Nuit (The Night)" is the debut track from Royal Arch and the A side from their first-ever 7", which is due out in early 2022 on vinyl via Make me Happy Records (EU), Jigsaw Records (US) and Fastcut Records (AS). Royal Arch's passionate debut sounds dark, but also is filled with hope. The resulting music is cinematic and lovingly pulls from the 2000's atmospheric indie-rock Revival scene.

"La Nuit is an ode to first and eternal love in all its forms. A story of a couple meeting over one night and falling in love in Paris. The frustrating futility of trying to find the truth and destroy what is keeping us away."