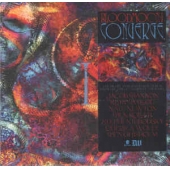 Converge
Bloodmoon: I
Label: Epitaph
Genre: Stoner / Post Metal / Industrial Rock
Availability
CD Digi / Cardboard €14.99

Dispatched within 5-10 working days

"We wanted to do something grander than the typical four-piece Converge music." That's Converge vocalist Jacob Bannon talking about the seed of inspiration that eventually bloomed into Bloodmoon: I, the new collaborative album created by the legendary hardcore band alongside dark songstress Chelsea Wolfe, her bandmate / writing partner Ben Chisholm and Cave In vocalist / guitarist Steve Brodsky.

The musicians descended upon Ballou's God City Studios in Salem, Massachusetts, to work on material in late 2019. Future sessions were planned for 2020, but then the pandemic hit. The rest of Bloodmoon: I was recorded remotely, though you'd never know it.

Harrowing and atmospheric, triumphant and melodious, Bloodmoon: I is Converge as you've never heard them before. It's Chelsea Wolfe and Ben Chisholm as you've never heard them before. It's Steve Brodsky as you've almost never heard him before—after all, he was a member of Converge in the late '90s and played bass on 1998's When Forever Comes Crashing.

As Bannon points out, Bloodmoon: I has been a long time coming—longer, even, than the 2016 shows would indicate. The members of Converge—Ballou, Bannon, bassist Nate Newton, and drummer Ben Koller—tipped their hand ever so slightly with the release of 2009's Axe To Fall, which featured a lengthy list of guest musicians, including members of Neurosis, Entombed, and Genghis Tron—not to mention Brodsky and some of his Cave In bandmates. Thrilling in its apocalyptic grandeur, Bloodmoon: I is a collaborative work in every way—to the point where Wolfe, Bannon, and Brodsky found themselves writing lyrics for each other.