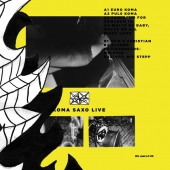 Eldh Peter & Koma Saxo
Live
Label: We Jazz
Genre: Jazz / Avant Garde
Availability
LP + 7" €32.99

Dispatched within 5-10 working days
Other Formats
Koma Saxo, the explosive quintet led by Berlin-based Swedish bassist/producer Petter Eldh, returns on We Jazz Records with their new album, cut live at We Jazz Festival in Helsinki, December 2019. Whereas their lauded debut was a triumph of remapping the goal posts for an acoustic jazz combo for the 2020's, "LIVE" takes you right to the heart of the actual ensemble sound, with 5 musicians tearing the place down, no post production. From the fiery opening sequence kicking off with "Euro Koma", on to the much calmer beauty of "Waltz Me, Waltz Me Baby, All Night Long" and the first single "Fiskeskärsmelodin", the 8-song set is pure fire, never failing to convey the extraordinary intensity of the group: Eldh on bass, Otis Sandsjö (Y-OTIS), Jonas Kullhammar and Mikko Innanen on saxes, and Christian Lillinger on drums. An excerpt of liner notes by Peter Margasak: "When I first saw Petter Eldh's quintet Koma Saxo in Berlin in September of 2019 I was floored.

The raw, sprinting energy of the band was both infectious and astonishing, but what I most remember was a sense of cognitive dissonance. Was this the same combo that recorded a fantastic eponymous 2019 studio album that represented one of the most convincing, pleasurable, and driving hybrid's of searing post-bop and the production ethos of hip-hop? There have been endless stabs by producers trying to remap the machinations of an organic, all-acoustic jazz band with electronic post-production, but Eldh, channeling a sonic language heavily informed by J Dilla, nailed it in a way I'd never experienced before.

Having the trust of his three imaginative, high-octane saxophonists—Jonas Kullhammar, Otis Sandsjö, and Mikko Innanen—he used their grainy sound as raw material, smudging and smearing it like a painter creating new hues on a palette, and then extending, editing, and powering it up within the imperturbable grooves meted out by he and drummer Christian Lillinger. He didn't really alter the essential core of the band's performances. There's no question that a seriously burning quintet had laid the tracks down, even if the performances reflected the kind of concision many jazz groups adapt for a studio endeavor. But the way his jacked-up bass lines and Lillinger's impossibly peripatetic, stuttering rhythms buffeted the massed saxophones elevated Koma Saxo to plane all its own, and I repeatedly returned to that place—half the time trying to figure out what the hell Eldh had done, and the other half lost in giddy ecstasy.

The vinyl is delivered on heavy-duty tip-on sleeve, complete with an insert featuring liner notes by Peter Margasak, Andreas Müller, Matti Nives and Petter Eldh.