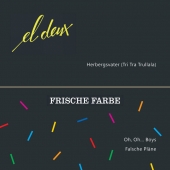 El Deux / Frische Farbe
El Deux / Frische Farbe
Label: Young And Cold Records
Genre: 80s Wave / Rock / Pop / Punk
Availability
MLP €17.99

Dispatched within 5-10 working days
EL DEUX was a short-living NDW / New Wave act (around famous producer and composer Kurt 'Gutze' Gautschi), that released a highly regarded minimal electro/wave album and 3 singles between 1982 and 1984. Gutze Gautschi is also the founder of Swiss 'Fresh Music' label, that (much) later was to launch DJ Bobo to worldwide success.

EL DEUX contributed the first 'new' track since 1984, that was specially recorded and produced for this release: two versions of the absolute JOACHIM WITT classic 'Herbergsvater', third Witt-Single from 1982.

FRISCHE FARBE / Fresh Color were a Swiss group formed circa 1978 in Aarau by guitarist Gutze Gautschi. They started as a punk band featuring Dieter Meier, however, Meier left after two 7" singles, "Cry for Fame" (released as 'Dieter Meier') and "No Chance" (released as 'Fresh Color'). Meier went on to form Yello. Gutze Gautschi assembled a new band and moved towards new wave/minimal electro. Fresh Color started to include synthesizers and developped a distinct dubby production style. The alias 'Frische Farbe' was created to release songs in German language.

FRISCHE FARBE contribute with two iconic tracks off the band's debut longplayer "Die Stärke m Minimum" (1982, and re-released in 2012).