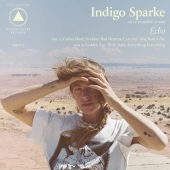 Indigo Sparke
Echo
Label: Sacred Bones
Genre: Rock / Pop
Availability
LP + MP3 COUPON €22.99

Dispatched within 5-10 working days
How do you reconcile loving someone when everything is relentlessly changing, dying, and decaying? It is devastating to love and be loved, because the perfect is both impermanent and eternal. For eons and mere moments, we exist with lovers like we exist in deserts, where the landscape stretches on and on. You can't possibly hold it all. These are the questions that permeate the rooms, corridors and wider landscapes of Indigo Sparke's debut record, Echo. Sifting through deep and intimate relationships, her work is a constellation of desire, dreams, memories and melancholia. Infused with heartbreak and hope, her songs are sombre, yet reflective, positioning herself like a stone being tumbled in tides of time.

Sparke established herself on the Australian music scene in 2016 releasing her self-produced EP Night Bloom.​ In the years since, she has moved between New York, Minneapolis and LA, travelling through terrifyingly vast deserts and mountains, with seemingly endless highways and empty motel rooms. In 2018 her song, "Holographic Heart" was performed in the Australian TV show, Cloudy River​ (SBS). Later that year, she released her single, "The Day I Drove the Car Around the Block," to critical acclaim. She was invited to play at SXSW in Texas in early 2019, where NPR's Bob Boilen was first taken by Indigo. He later wrote, "Her song, 'The Day I Drove the Car Around the Block' has a mundane title that made me smile, but lyrics that both cut hard and comfort." After seeing one of her performances Boilen invited her to do a Tiny Desk concert in Washington D.C. and included her song in All Songs Considered 2019 SXSW Wrap-up: Our Favourite Discoveries and Memorable Moments, claiming he "loved the way Indigo Sparke balanced heavy, reverb-drenched verses with moments of airy and acoustic whispers."

Listening to Echo, it is clear Indigo has submerged herself even further into an abyss of ambiguous grief, dismantling the glass house of hope, and resurfacing with a fragile, yet fearless debut record. It was on a tour in Australia supporting Big Thief that Indigo met Adrianne Lenker. The two formed a transcendental connection and over the next two years, explored vast deserts and heaving cities across the world, eventually ending up in an old castle nestled in the hills of Northern Italy. The record was recorded between LA, Italy and New York, co-produced by Indigo, Adrianne, and Andrew Sarlo (producer of Big Thief, Nick Hakim, Hovvdy, Courtney Marie Andrews, Bon Iver, Hand Habits, Active Child). Sarlo engineered the first session in LA. James Krivchenia (drums) and Max Oleartchik (bass) played on the record with an eerie yet fairy-tale like contribution by Nick Hakim on the glockenspiel on her track "Baby." It was at the castle that Indigo met Shahzad Ismaily (musician and multi-instrumentalist) who, upon learning Indigo wrote poetry, asked her late one night to work on a song with him. What became of that session is "Dog Bark Echo." Back in New York, at Shahzad's studio (Figure 8), the record was completed. The final session there was engineered and eventually mixed by Phil Weinrobe (producer/engineer of Leonard Cohen, Damien Rice, Adrianne Lenker, Buck Meek, JFDR, Lonnie Holley).

Of this incredibly deep and intimate record, Indigo says, "When writing and recording the record, I wondered how it would all come together. I felt like I was standing back in the desert, looking up at the blue night sky, wondering how all the stars would connect. I think sometimes it's the dark matter or void space between them, that holds it all together. This record is an ode to death and decay. And the restlessness I feel to belong to something greater."

Laced with sparse filmic piano, seraphic harmonies and reverb-drenched vocals and guitar, this record was born in the desert, where silence forces you to dissect yourself. Indigo drew out her magnifying glass to look at the dust and guts and glitter of existence. It is clear Indigo has lived and woven her many lives into these songs, telling us, "I feel and have often felt a million different women ramble and reconfigure the corners of my mind and soul. I think in my life, I have ricocheted off so many different walls within myself. It's an endless search to understand the mysteries of life and love and history. As soon as you think you've got it, it's gone. Sometimes I feel so thin. Sometimes I feel so robust. I think that comes through the music."

The record plays like a lullaby. It is soft with gentle nods to the sounds of everyday life, yet dripping with sensuality. In "Wolf," she sings lyrics that are pared back, finger-picked over electric guitar,

'I am wet, I am burning. I am an ocean for you. I am wet, I am burning. Do you feel the same way too?'Reflecting on Echo, Indigo says, "Adrianne and I talked so much about keeping the record stripped back and simple, that is, we are all just constantly getting stripped back and humbled by life."Reminiscent of Hope Sandoval and the Warm Invention's Bavarian Fruit Bread, early PJ Harvey, and Beth Orton, Indigo Sparke's Echo tells us that time drags us on and through, and asks us, what will we be left with? And what is it we will return to?

Red vinyl.