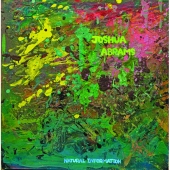 Abrams Joshua
Natural Information
Label: Aguirre
Genre: Jazz / Avant Garde
Availability
LP €23.99

Dispatched within 5-10 working days
In his book Powershift, published in 1990, writer and businessman Alvin Toffler predicted that the century ahead would be defined by speed and that time itself is destined to become our most valuable commodity. When Joshua Abrams recorded Natural Information, originally released by Eremite in 2010, he was reacting against such commodification of time and the diminishing attention span that accompanies it by offering music with an irresistible groove, rooted in the sinuous rhythms of the human body and the full play of our senses.

At the heart of this music is the sound of the guimbri, a North African three-stringed bass lute, which Abrams started to play following a visit to Morocco during the late 90s. Traditionally the instrument has a key role in mystical healing ceremonies. Abrams, already a well-established figure in Chicago's vibrant musical communities, had no desire to repackage tradition. He recognized however that the involving, springy and percussive sound of the guimbri was just the right voice to communicate vital data, to relay the natural information we all need in order to get back in touch with the pulsating continuities of a world we all share.

With Natural Information Abrams entered a new phase of his musical life, extending an invitation to the trance, where time intersects with timelessness. He carried with him a wealth of playing and listening experience. As a bass player he had worked with a host of notable musicians including guitarist Jeff Parker and percussionist Hamid Drake, and had been a member of back porch minimalism outfit Town And Country and the improvising trio Sticks And Stones.

The guimbri is a shaping presence on this remarkable recording, but Abrams also plays bass, bells, kora, sampler and synthesizer. Sympathetic friends including guitarist Emmett Kelly, vibraphonist Jason Adasiewicz and drummers Frank Rosaly and Nori Tanaka join him for the project. They set out not to contrive some neat hybrid but to enable coordinated energies and enriching influences to pulse and flow through living, breathing music. Ten years further into a century seemingly dedicated, as Toffler foresaw, to the survival of the fastest, the deep involving groove of Natural Information seems still more relevant, more illuminating, more vital.