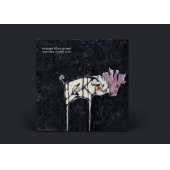 Orange Blue Green
Improvised Chamber Music
Label: Orange Blue Green
Genre: Jazz / Avant Garde
Availability
CD Digi / Cardboard €15.99

In Stock
Dimos Goudaroulis – cello
Nektarios Karantzis – bass
Christos Yermenoglou – drums, percussion

Improvised chamber music

Free improvisation, which is composition in present tense, is the natural language of the trio. This language is pluralistic, as are the references and the routes of the musicians themselves. It is not about a sound collage, however – every nod is an integral part of an action or a narration: the composition as a whole is what matters.

With nothing predefined, every synergy of the trio is like diving into the unknown guided only by the instinct and the deep communication among the musicians. Everything – themes, sound colors, harmonies, shapes, elaborations, forms – is revealed and discovered from scratch, in a process that is both intrinsic and enthralling.