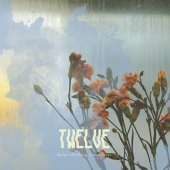 Nefeli Walking Undercover
Twelve
Label: Same Difference Music
Genre: Electronica / Ambient / Experimental
Twelve wordless pieces of music, one for each month of a random, dark and bright, extraordinary year.

Conceived, recorded and mixed in Nefeli's room during the last week of July 2015, using familiar instruments along with some unknown yet friendly filters caught wandering around the fields of her recording program. It's a do-it-yourself thing mixed on earphones and if you are careful enough, you can hear the dancing in circles cicadas.

Edition of 100 copies.