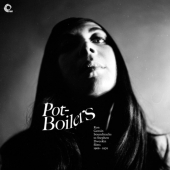 Geesin Ron
Pot-boilers - Ron Geesin Soundtracks To Stephen Dwoskin Films, 1966 - 1970
Label: Trunk
Genre: Soundtrack
Availability
LP €24.99

Dispatched within 5-10 working days
Sublime, unique, sexy and peculiar unreleased scores by electronic and jazz pioneer Ron Geesin, made for the sublime, unique, sexy and peculiar films by maverick director Stephen
Dwoskin. There. we've said it. And if you have not heard of one or either of these two dudes it doesn't really matter. Geesin made great music and worked with Pink Floyd. Dwoskin made odd films, most of them are in the BFI permanent collection. They are great and a bit strange.

These superb unreleased soundtracks come from a fascinating, progressive and important period in British film history. They represent an intriguing collaboration between the lively Ron Geesin from Scotland and the American Stephen Dwoskin, who both met in London.

Musically they are minimal, charismatic and quite groundbreaking.