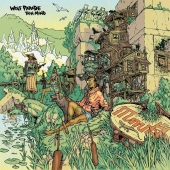 Wolf Parade
Thin Line
Label: Sub Pop
Genre: Rock / Pop
Availability
LP + MP3 COUPON €22.99

Dispatched within 5-10 working days
Wolf Parade - Dan Boeckner, Spencer Krug, and Arlen Thompson - will release Thin Mind, the group's fifth album for Sub Pop, on January 24th, 2020. The 10-track record was recorded by John Goodmanson at Risque Disque on Vancouver Island, BC, mixed by Goodmanson at Bogroll Studios in Seattle, WA, and mastered by Noah Mintz at Lacquer Channel Mastering in Toronto, ON.

Thin Mind has sci-fi, post-apocalyptic and dystopian narratives interwoven throughout. These themes emerged while working at Risque Disque, which Boeckner jokingly describes as a Dutchman's failed utopia, a problematic structure with a post-apocalyptic vibe: the studio is housed in a stone barn hand-built by the Dutchman in the middle of the woods, using local materials and based on his memory of a building he loved growing up in the Netherlands.

Thin Mind finds the core members of Wolf Parade working as a trio, as they did on past albums Apologies to the Queen Mary and At Mount Zoomer, with songwriting duties evenly split between singers Dan Boeckner and Spencer Krug. The album includes the singles "Forest Green," "Julia, Take Your Man Home," and "Against the Day," the latter of which features a rare, co-vocal performance from Boeckner and Krug.

Loser edition, coloured vinyl.