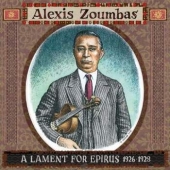 Zoumbas Alexis
A Lament For Epirus 1926-1928
Label: Third Man
Genre: World Music
Alexis Zoumbas was one of the most sublime musicians to ever cast a shadow across the face of the Earth and no one has been able to translate the emotions of despair—of devastation—through an instrument as effectively as Zoumbas. Years of research and obsession have resulted in this, the first collection of recordings by the legendary and masterful Greek folk violinist Alexis Zoumbas. Very few Pre-War musicians have tapped deeper into the human soul than Zoumbas and this volume presents his most profoundly hypnotic and unearthly pieces. A deep set of notes based on Christopher King's pioneering research from 2012 is accompanied by previously-unpublished photographs as well as original artwork by R. Crumb.

Originally issued in 2014 for Record Store Day, the limited release of the LP immediately went out of print. Faithfully remastered from the original 78s, Christopher King's original version of the LP has been enhanced for Third Man Records by the inclusion of an EP featuring two previously unissued and unheard alternate takes of the masterpieces Epirotiko Mirologi and Doina.

Amanda Petrusich (New Yorker, Pitchfork) says "Alexis Zoumbas' expressions of longing are so raw and unmediated that I suspect anyone who has ever yearned for anything -- who has ever gazed dolefully out a window, or sighed audibly over a cup of whiskey, or felt subsumed by a certain kind of ache -- will feel these songs like a club to the back of the knees. They are immediate, destructive, and stunning. That Christopher King was able to collect and contain them for us is an extraordinary gift."