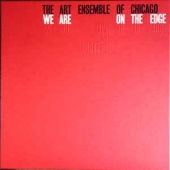 Art Ensemble Of Chicago
We Are On The Edge: A 50th Anniversary Celebration
Label: Erased Tapes
Genre: Jazz / Avant Garde
Availability
LP x4 BOX €66.99

Dispatched within 5-10 working days
Special Edition 4LP box. Includes their live set recorded at Edgefest, Ann Arbor, Michigan.

Iconic, innovative and internationally renowned force in avant-garde music The Art Ensemble of Chicago released their 50th anniversary celebratory album We Are On The Edge in April, and Erased Tapes are honoured to announce the vinyl edition of this exceptional body of work. Led by surviving founding members Roscoe Mitchell and drummer Famoudou Don Moye, these brand new recordings involve a staggering array of contemporary artists ranging from across the jazz, experimental and improvised music spheres; from the visionary poet and musician Moor Mother, trumpeters Fred Berry and Hugh Ragin, who have performed with Mitchell for over five and four decades, to bassist Jaribu Shahid, supreme cellist Tomeka Reid, celebrated flute virtuoso Nicole Mitchell and the extraordinary voice of Rodolfo Cordova-Lebron.

Having witnessed this exciting new formation around Roscoe and Don live at Big Ears Festival in Knoxville, Robert Raths was compelled to start a conversation with their US label Pi Recordings, based out of New York, and support this project in any way possible.

The Art Ensemble of Chicago is a band that has been at the forefront of creative improvised music since forming in 1969. It has also long served as the flagship ensemble of the Association for the Advancement of Creative Musicians (AACM), the august Chicago-based organisation that also fostered the careers of members such as Muhal Richard Abrams, Anthony Braxton, Henry Threadgill, and Wadada Leo Smith, among many others. Now led by the surviving members Roscoe Mitchell and drummer Famoudou Don Moye, their new album We Are On The Edge: A 50th Anniversary Celebration is not only a commemoration of a half-century of magical music making, but also a loving tribute to the band's three original members who have passed: Lester Bowie, Malachi Favors, and most recently, Joseph Jarman.

The greatness of the Art Ensemble has always been the shared commitment of its original members to the total realm of African diasporic music: what they have long-termed "Great Black Music — Ancient to the Future". Also important are the group's disparate musical and artistic personalities, comprised of jazz, advanced compositional techniques, theatrical performance, poetry, Pan-African percussion, all tied together with improvisational flair, a taste for the absurd, and the exploration of pure sound and space. It is this open-mindedness – absorbed from the basic tenets of the AACM – that has made the band one of the most important in the history of music.

Mitchell and Moye are now 78 and 72, respectively, but one would never guess by their outlook. Mitchell, who was recently named to a prestigious United States Artist Fellowship, is about to retire from his teaching position at Mills College, is most excited when you ask him about his upcoming projects, gushing about a dizzying array of performances, commissions, collaborations, composition ideas, and musical studies and inventions. There is, of course some wistfulness when looking back, particularly with the passing of Joseph Jarman earlier this year, but the overwhelming feeling is anticipation of what is coming next or, as Moye always says, "focus and forward motion". It's a clarion statement that Mitchell and Moye are intent on ushering The Art Ensemble of Chicago forcefully into its sixth decade. As Moor Mother declares: "We are on the edge!"