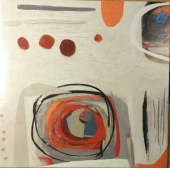 Soren Skov Orbit
Orbit Bound
Label: Jazz45 / Jazzman
Genre: Jazz / Avant Garde
Availability
7" €11.99

Dispatched within 5-10 working days
The Orbit was founded in 2016 by saxophonist Soren Lyhne Skov and pianist Peder Vind. The two had been playing together for over a decade in various groups inspired by afro–beat and ethio jazz. The idea with Orbit is to maintain the feel of certain musical traditions but to explore them through a modal jazz perspective.

The ominous Orbit Bound is centered around the figure played by the bass clarinet. The time is 9/8 and with the sound of the bass clarinet you might get a Balkan feel. But the scale is more Middle Eastern making it difficult to place precisely - like an orbit constantly moving.

NV is a tribute to the North Western borough of Copenhagen, which is a multi-ethnic and partly still ungentrified part of Copenhagen. The area has its struggles and social problems but at the same time it is also a place of warmth, surprises and lot of untapped talent.

This song has a loose minor scale theme with some sparse piano chords and a solid bassline leading the way. The drums are constrained giving the track a feeling of unreleased energy similar of the potential energy in NV.