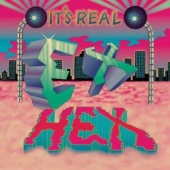 Ex Hex
It's Real
Label: Merge
Genre: Rock / Pop
Availability
LP + MP3 COUPON €22.99

In Stock
When Ex Hex exploded onto the scene with their unfettered brand of rock and riffage, the power trio for our generation had finally arrived. Made up of Mary Timony, Betsy Wright, and Laura Harris, the group's debut Rips was a gleaming collection of tightly wound gems that scored Best New Music honors from Pitchfork, the top spot on Magnet Magazine's Best of 2014 list, and No. 11 in that year's Pazz & Jop critics poll. Touring throughout 2015 and 2016 established the band as a force to be reckoned with: an audacious three-piece distilling rock music to its essence with formidable skills and a reputation for frenzied and unabashedly fun live shows.

On It's Real, the forthcoming second album, Ex Hex's commitment to larger than- life riffs and unforgettable hooks remain intact, but the garage-y, postpunk approach that defined Rips has grown in scale and ambition. What started as a reaction to the blown-out aesthetic of Rips would test the sonic limits of the power trio and lead the band on a quest for a more immersive and three-dimensional sound. Vocal harmonies are layered ten tracks deep, solos shimmer and modulate atop heaving power chords, and the codas linger and stretch toward new frontiers of sound. Produced by Jonah Takagi, It's Real was a more collaborative effort than its predecessor. Mary and Betsy could be found writing late into the night, leaning on Takagi to tighten up arrangements. Egos were surrendered in service to the music: Nothing was sacred or precious, and there was a relentless devotion to both songcraft and exploration. Dozens of guitar amps sat mic-ed in the next room, and the group experimented at a frenzied pace parsing countless combinations of instruments, pedals, and amps. They even dusted off Mary's old Rockman, a small headphone amp designed by Boston guitarist Tom Scholz in 1982. Mary recounts, "It's only about the size of a Walkman and takes eight AA batteries, but it sounds massive. We read that parts of [Def Leppard's] Hysteria were tracked through it, and when we finally plugged it in, it blew our minds!"

Indies only pink & blue swirl vinyl LP.