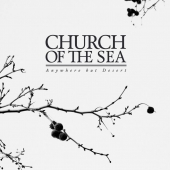 Church Of The Sea
Anywhere But Desert
Label: A Man Out Of A Man
Genre: Dark / Post Punk / Gothic / Neo-Folk
Brooding drums, some amazing guitar work and fantastic hypnotic vocals make this work really, really well. This is some of the best stuff we've heard in ages."
- SOUNDSPHERE MAG

" Sweet Surprise" is the doomgaze we didn't know we needed! Greek trio Church Of The Sea are one of those bands that life tosses at you and you fall in love with. Just like that"
- TOO MUCH LOVE MAGAZINE

" CHURCH OF THE SEA's 'Sweet Surprise' has a feeling of ominous warning to it all. Being careful of the future, by defending the present. Odd way to feel about this song? Nope. It's the essence that makes the song work."
- COMEHEREFLOYD

Recorded at Artracks Studios and Suono Studios.

Engineered and produced by Alex Bolpasis (Whereswilder, Noise Figures, Cyanna Mercury) and Church of the Sea.
Mixed and mastered by Chris Common (Chelsea Wolfe, Omar Rodriguez Lopez, Emma Ruth Rundle).

Cover photo by Danai Simou
Cover design and artwork by George Gkousetis for Semitone Labs.