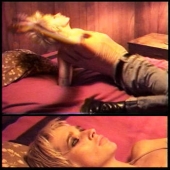 Boy Harsher
Careful
Label: Nude Club
Genre: Electro / Electro-Rock
Availability
CD €16.99

Dispatched within 5-10 working days
Boy Harsher return with their new album Careful - a wild ride that celebrates abandon, while mourning attachment + love.

The ten songs on Boy Harsher's second full length album, Careful, spanning forty-four minutes, contain eerie narrative soundscapes that are both bracing, high tempo and dynamic. The album delivers manifold emotions, from the nostalgic yearning of "LA" to the gripping intensity of "Come Closer". The nervousness of Augustus Muller's bent, out of tune synths paired with the lush and sometimes brittle vocals of Jae Matthews, delivers an unsettled, yet fulfilling encounter with Boy Harsher.

Careful summons a new spirit for the young band - that of growth and desire.

Careful marks Boy Harsher's most dynamic album to date.

The band expands upon the fine-tuned production developed in their last EP Country Girl, but with plenty of nods to the fast tempo and grittiness of Lesser Man.