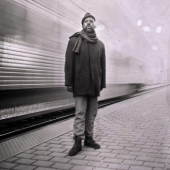 Gay Ben Lamar
Downtown Castles Can Never Block The Sun
Label: International Anthem
Genre: Jazz / Avant Garde
Availability
CD Digi / Cardboard €15.99

In Stock
Downtown Castles Can Never Block The Sun is as much a greatest hits as it is a debut album for Ben LaMar Gay. It's his first solo album, and its a collection of music compiled from 7 albums he made over the last 7 years but never released.

If you're a follower of Chicago music, Downtown Castles is likely not the first you've heard from him. One of the most prolific collaborators in the city's creative music community, he makes active contributions to Nicole Mitchell's EarthSeed, Joshua Abrams's Natural Information Society, Bitchin Bajas & many more. And he's well present in the International Anthem catalogue.

Beyond being the brains behind Bottle Tree the future funk suite we released in April of 2017 that was named #1 Best Album of the Year by Londons EZH Magazine and on NPRs Sound Opinions (c/o producer Ayana Contreras) Ben LaMar Gay plays on both of our biggest 2017 releases, Makaya McCraven's Highly Rare and Jaimie Branch's Fly or Die. Ben LaMar Gay is already almost omnipresent in the current zeitgeist of progressive jazz sounds sprouting from Chicago, but the release of Downtown Castles will be his first moment squarely in the centre of the spotlight. Ben's musical vision covers a whole amazing sonic universe. He is, hands down, one of my favorite musicians on the planet today. - Jeff Parker

Recommended if you like... Don Cherry, Tom Ze, Big Boi, Thundercat, Abner Jay, Steve Reich, Archie Shepp, Raymond Scott, Daedelus.