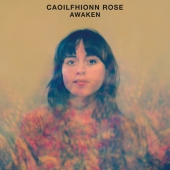 Rose Caoilfhionn
Awaken
Label: Gondwana
Genre: Rock / Pop
Availability
CD Digi / Cardboard €15.49

In Stock
Other Formats
Caoilfhionn (pronounced Keelin) Rose is a singer, songwriter and producer from Manchester. Emerging from a diverse music scene, she ties together remnants of Manchester's musical past with its evolving present. She has collaborated with musicians from around the world and is perhaps best known for her work with Vini Reillyof Durutti Column:Collaborating on four songs on The Durutti Column - Chronicle LX:XL album. She grew up surrounded by music (dad loved jazz and mum was a massive folk fan) but it wasn't until her late teens that the muse took hold: I've always been interested in music but I really started to get into it after a period of illness when I was 17. It was music that made me begin to feel like myself again. Listening to my iPod, everything felt new and exciting and yet vaguely familiar and nostalgic. A year or so later, during her recovery she started to write songs again on the piano and started performing in Manchester, graduating through open mic slots to her own shows.

Caoilfhionn's music draws on a diverse range of influences from The Mummers, to Rachel Sermanni, Melody's Echo Chamber and Broadcast. She also professes to a love for beautiful, stripped back, piano based music, such as Dustin O'Halloran and Peter Broderick. Vini Reilly from The Durutti Column is a big influence and inspiration. We're friends now after collaborating a few years ago and I have become a big fan of his music. It is intricate and detailed but spontaneous and free. Another inspiration is her immediate environment. With Manchester's Fletcher Moss Park especially inspiring. And it was what led her to Gondwana Records, Matthew Halsall, when she heard his 2012 album Fletcher Moss Park. She reached out and shortly afterwards he went to see her perform at The Art of Tea Cafe in Didsbury Village. Blown away by the fragile beauty of her music he offered to produce a recording for his label.

Awaken, is Caoilfhionn's debut album, co-produced with Matthew Halsall, guitarist Rich Williams and Matthew's brother Daniel Halsall (artistic director of Gondwana Records) she describes it as a deeply collaborative effort. Expansive, fragile and experimental it's a rich tapestry that draws on folk, psychedelia and subtle electronica influences. For Caoilfhionn it represents a busy mind, change, and an up and down life. It is an honest and personal account, full of memories and mumblings to myself that I hope other people will relate to or at least understand. It's also a deeply collaborative album featuring songs developed with her band mates, Matthew Halsall and one song, Wild Anemones, even features her gran mother! Andthe title track of the album sums up the whole body of work. It's a positive song about looking outward, forwards and all around. It marks the beginning (like waking up) and feels like the starting point of a lot more music. It was the song that pushed me and moved me out of my comfort zone. Having played solo as a pianist for a couple of years, it inspired me to work with new sounds, musicians with a different approach to making music.