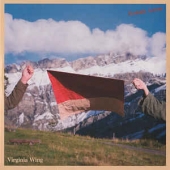 Virginia Wing
Ecstatic Arrow
Label: Fire
Genre: Rock / Pop
Availability
LP + MP3 COUPON €24.99

In Stock
Our favourite records are the perfect counterbalance of the considered and the superficial. Whether it's Madonna, Talking Heads or Holger Czukay – we enjoy these artists in the background with friends or profoundly and alone.

Virginia Wing both understand and embrace this concept fully as they return with Ecstatic Arrow, an album which finds them in a place of renewed strength, optimism and clarity.

Recorded in Switzerland, in the family home of longtime friend and collaborator Misha Hering within the domesticity and gentle routine of communal life, the album represents a world as predisposed to solemn introspection as it is to blithe conviviality.

Ecstatic Arrow borrows from the heterogeneous terrain of The Flying Lizard's Fourth Wall, the exuberant technology assisted pop of Yellow Magic Orchestra and the playful sophistication of Lizzy Mercier Descloux's Press Colour, arriving at the evergreen intersection of pop music and conceptual art.

The resolute opener of Be Released and album centre point The Female Genius pair resonant Fourth World instrumentation with sonorous, loping drum patterns. Elsewhere, the sentimental march of single The Second Shift plays out like an after-hours ballad re-imagined by Wally Badarou and For Every Window There's a Curtain is coloured by the blue-lit haze of an Eventide warped tenor saxophone.

Three albums in, the voice of Alice Merida Richards is more compelling and expressive than ever. The glacial deadpan of previous records has given way to a more candid, self-possessed delivery, showing an appreciation for the humour and tragedy innate in the downtown Arcadia of Laurie Anderson, Robert Ashley or even Lynn Goldsmith's Will Powers.

Limited edition blue vinyl. Includes zine and poster.