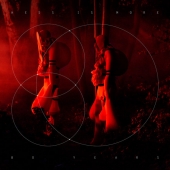 Hess Is More
80 Years
Label: Edition Records
Genre: Freestyle / Nu Jazz / Funk / Afro
Availability
CD €15.99

Dispatched within 5-10 working days
80 Years is Hess Is More's seventh LP, give or take—it's hard to keep track. What's clear is that it could never be the band's first, second, or third album, much as The White Album (to cite the starriest example of this exalted subgenre) could never have introduced the Beatles. The record is far too eccentric and confident, reflecting the zigzagging journey the band has embarked upon to arrive at this place.

Let's recap! Hess Is More first flickered to life more than a dozen years ago in Copenhagen, where drummer and singer Mikkel Hess had recently graduated from the Royal Danish Academy of Music. After spending his young life steeped in jazz, Mikkel greeted adulthood by falling under the sway of pop. From its first rumblings, Hess Is More reveled in the simple pleasures of pop music—all juicy dance beats and whistled jingles—while never abandoning the perspective of an art- damaged jazz act. In time, Mikkel relocated to New York.

Hess Is More had long featured the drummer and a revolving cast, yet in the city a dynamic band slowly gelled. It is the type of project impossible to conceive outside the boundaries of New York City, with members hailing from far-flung corners, both geographic and stylistic. Rasmus Bille Bähncke, Hess's studio lieutenant and fellow Dane, is a pop savant whose production has guided the world's Mileys and Aikens. Matthew Parker is an American jazzman, his saxophone solos floating through the band's songs like apparitions. Lifelong New Yorkers Pavel Kogan-Liakhov (guitar) and W. Andrew Raposo (bass) are pedigreed dance/rock musicians, the latter responsible for the tasteful label Concierge Records. Dublin native David Mason, when not playing electric drums with Hess, performs retro-futurist electronic music as Listening Center. Nikolaj Hess (an established jazz pianist and Mikkel's big brother) and Daniel Nentwig (of Berlin's the Whitest Boy Alive ) contribute keyboards. In concert, the band encircles Mikkel as he drums and sings. Encountering a frontman drummer in a rock club is an unexpected sight, but this is no shtick: Hess Is More is, in effect, a drummer-led jazz band that happens to play a bastardized form of rock music.

To pick up a Hess Is More record from a few years back was to encounter an avant-garde pop band with its emphasis tilted toward the latter category. Songs were contained—three or four tidy minutes—and very much stamped by the studio. One song became a bona fide hit in Russia after a popular exotic dancer, immune to the lyrics' ironic tilt, employed it in a web video. 80 Years is a different beast. Songs sprawl out to nine, ten, even twenty minutes. As with the album's predecessor and companion piece, 2014's My Head Is a Ballroom , the record is a resounding band effort, with each musician scattering his fingerprints across Hess's wondrous melodies. "It's Backwards No Matter What I Do," which dominates the album's b-side and runs about as long as a Seinfeld episode, features a veritable album's worth of solos and moods. Perhaps even more adventurous and unexpected are the album's short songs: "Recollection of 80 Years," a surprise trumpet solo by guest star Tom Harrell that would sound at home on a jazz record, and "You May," the Eno-esque lullaby at the LP's conclusion.

Throughout, the band sounds like itself and only itself. This music is never weird but always unique. It will move the sedentary to dance and the pitiless to weep. It is music created by men with experienced hands and young souls, rooted in their respective traditions but eager to break any rules that stand before them.