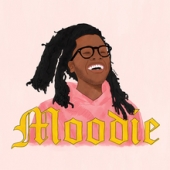 Yuno
Moodie
Label: Sub Pop
Genre: Rock / Pop
Availability
LP + MP3 COUPON €18.99

Dispatched within 5-10 working days
Despite being stuck in his bedroom in the city of Jacksonville, the 27-year-old Yuno's pedigree is diverse. His parents are from the UK, and of Jamaican descent, and his musical upbringing involved a wide array of discovery mainly as a result of being part of his local skateboarding subculture. That's what got him into music: hanging out with friends at their now abandoned mall, going to the skate shop, playing Tony Hawk's Pro Skater video games, watching skate videos, and listening to all the music featured therein. "In high school I had a lot of friends that played guitar also. We would all come into school early, learn songs and play for each other in the cafeteria."
Yuno creates all his of music alone at home, self-producing and engineering, playing all the instruments. He also shoots all of his own press photos, design's his album art and directs his music videos. "I like being really hands on with everything surrounding my music, even now that I'm with Sub Pop," he says.
Sub Pop found Yuno via Ishmael Butler of Shabazz Palaces and Digable Planets fame, who's on the A&R staff for the label. He stumbled upon Yuno on Soundcloud and kept a close eye on him. Similar to Ish, Yuno is encouraged by the genre-bending age of melody we're living through, citing Lil Uzi Vert and Young Thug as sources of influence.

The multiple flavors of sound also reflect the breadth of feeling that he's chasing in the writing. Moodie – the EP's title – clearly relates to his surname, but it's also channeling the emotional variety of the tracks. "It covers all the different feelings you have at the end of a relationship," he notes. "Sometimes you're really happy to be moving on, other times you're really upset to see something go."

Loser edition.